Less than a month after the delivery of Berge Bulk's third handy-size vessel, Berge Asahidake, the Company delivered a fourth 34,000 dead-weight tonnage new build on 5 February 2016.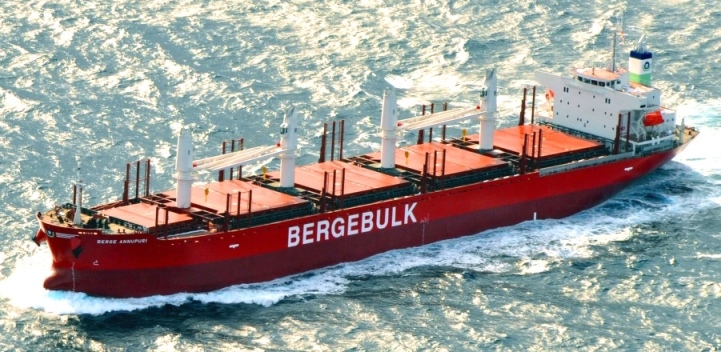 Named Berge Annupuri, the ship was built at Namura Shipyard in Hokkaidō, Japan. Keel-laying took place in October 2015 and the ship was launched in mid-December 2015. Berge Annupuri is part of a series of six Berge Bulk sister ships. The Company is expecting the delivery of the remaining two 34,000 dead-weight tonnage new builds from Namura Shipyard before the end of the year.
Following Berge Bulk's motto 'Moving Mountains', the new ship is named after Mount Annupuri in Niseko, Hokkaidō, Japan. With an elevation of 1,308.5 metres, the mountain is famous for its fine-quality powder snow and a popular skiing destination.
Like her sister ships – the Berge Hakodate, Berge Daisetsu, and Berge Asahidake – the Berge Annupuri is equipped with energy-saving and environmentally friendly technologies such as rudder bulb fins, Namura flow control fins, and a new generation of propeller that omits root and hub-vortex cavitation. The main engine's technology electronically controls fuel injection and the exhaust valve drive. This allows an auto-tuning of the engine and ensures more efficient operations during slow steaming. Also, both main and diesel generator engines comply with Nitrogen Oxides Tier II regulation.
Berge Bulk has been successful in employing its growing and efficient fleet on long-term contracts as well as the spot market. Sailing under the flag of Isle of Man, Berge Annupuri's maiden voyage will take her to North America.